5 reasons why truck presentation matters!
How much are you really looking after your truck?
For some drivers, truck presentation doesn't necessarily mean a whole lot. For others, presentation is a standard that's required and measured.
So, for some drivers, getting slack on presentation means there's a good chance you'll miss out on new business or even lose business.
To be more specific, a contractor is more likely to select well-presented trucks for their tenders as opposed to 'shabby' looking trucks. If you have a shabby truck, you'll miss out on opportunities to earn more — and you'll also weaken the image of your fleet.
More than just a good-looking rig — 5 ways top-notch truck presentation can help your business: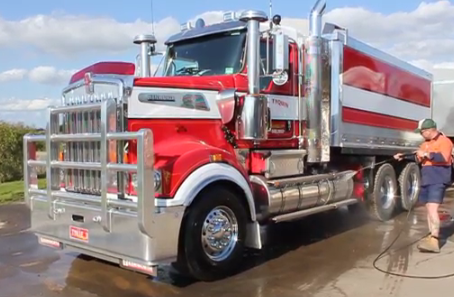 So you're told it's important to keep your trucks clean and presentable. So what? Why should you even care about truck presentation?
Because it can genuinely benefit your business if you do.
Looking after your trucks means that you can potentially:
Increase your business by gaining and renewing more contracts.
If your trucks are well-presented, contractors are more likely to contract you for tenders. It'll also help maintain a good relationship with them and help with contract renewals.
Create a positive reflection on your business.
This one's a given. If your trucks look good, so does your business. You'll look much more professional and will stand out from the crowd.
Attract better drivers.
Having good-looking trucks will help you attract drivers that will take care of your trucks. These blokes (or ladies!) are the type who pay attention to detail on their rigs; rest assured they'll deliver on their end of work.
Build a strong image of reliability.
If a polished, presentable truck is picking up/delivering goods, clients will feel more confident that their tenders are being well-looked after — you'll look far more reliable.
Be more cost-effective in the long-run.
Cleanliness isn't just about presentation, it's about maintenance. Not only does a strong cleaning regimen allow you to experience the benefits of a good-looking rig, but it also reduces the effects that things like rust and wear can have on your truck.
Alternatively, instead of buying new trucks, with a rigorous cleaning plan you could easily buy a second-hand rig. Fit it out with some chrome wheels, make sure the paintwork is up-to-scratch and your second-hand truck will look as good as new!  Either way, cleanliness is a much more cost-effective solution.
Assessing the condition of your truck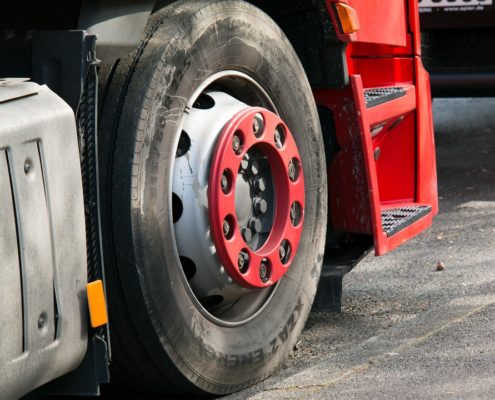 So, it's worth paying attention to the look of your rig!
The first things to think about are:
Is your truck's paintwork in bad shape?
Are your wheels rusty, dull-looking, or just plain dirty?
Do any parts require replacing? eg. your wheels
If you answer yes to any of these questions, it's time to start caring for your truck!
If you haven't considered it yet, putting chrome wheels on your trucks will lift your looks to another level — adding a nice, polished shine to ensure you stand out from the other shabby-looking trucks.
Superchrome can hook you up with:
Shiny wheels — making sure you're able to leave a strong impression on contractors and tenders.
Easy-to-maintain wheels — meaning you don't have to spend too much time cleaning and polishing — just focus on getting the job done.
Long lasting wheels — chromed wheels are very durable and reliable. The wheels' hard surface ensures your wheels can last up to twice as long. This is a very cost-effective way of ensuring truck presentations are up to standard.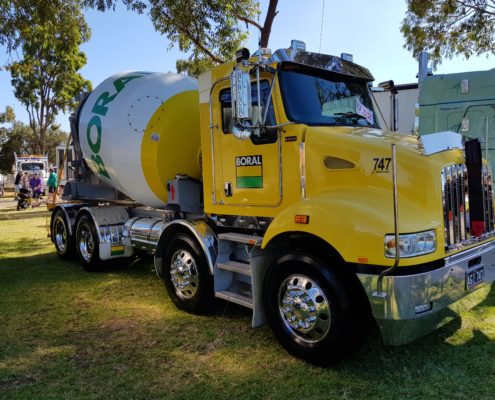 If you need help getting your rigs to an outstanding presentation standard, get in touch with SuperChrome. You can talk to us directly on +61 (0)2 9727 5622 or fill in your details here and we'll be in touch with you soon.
https://www.superchrome.com.au/wp-content/uploads/2018/05/2013-02-15-15.08.26.jpg
850
1280
MathMarketing
https://superchrome.com.au/wp-content/uploads/2016/04/Superchrome-Logo_RGB_SML-300x63.png
MathMarketing
2018-05-01 22:57:08
2018-05-14 23:07:24
5 reasons why truck presentation matters!