Should you be chroming your old wheels?
You've been doing some research and have heard about the great benefits of chrome wheels – they look good, they're amazing quality, they're easy to clean and require no polishing – and they can help you win business. So, you've decided it's time to invest in a set for yourself – or your whole fleet.
As with any investment, it's important to consider your options – what will be best for your truck and your business? When it comes to purchasing chrome wheels, there are two options:
Buy new, chrome wheels
Have a chrome finish applied to your existing wheels
If your existing wheels are fairly new (or you're particularly attached to them) it could be tempting to go with option two.
But should you really be chroming your old wheels? And if so, how to re-chrome alloy wheels?
Old vs. New
You might be wondering what the possible advantage could be of forking out for brand new chrome wheels when your current ones are in good enough condition to be chromed.
When making the decision between old or new chrome wheels, there are three main factors that come into play when deciding which is the most cost-effective option: cost, time and quality.
So, how do the two options compare?
Cost
It might seem like chroming your existing wheels would be the most cost-effective option – you've already paid for them, so what's the point of paying for a new set, and how much to chrome wheels?
It turns out, you aren't saving as much as you think. Or saving anything at all.
We did the maths: when you factor in freight costs and downtime, chroming your old wheels can actually cost you approx. $300 more per wheel than just buying them new.
APPROXIMATE COST TO CHROME SIX SECOND-HAND ALLOY WHEELS
Cost to clean, polish and chrome six alloy wheels: $5,280
Cost to freight wheels to be chromed (if not delivered personally): $300
Cost of downtime that your truck is not earning income: $2,000
TOTAL COST: $7,580
TOTAL COST PER WHEEL: $1,263
APPROXIMATE COST TO PURCHASE NEW SUPERCHROME ALLOY WHEELS
Price of six new chrome alloy wheels (JOST Brand): $5,700
TOTAL PRICE PER WHEEL: $950
Plus, you get a 7-year chrome warranty for every new chromed wheel you purchase.
BONUS TIP: If your wheels are in good condition, you can sell them for approximately $1250-$350 per wheel – saving you even more!
Want to know how much YOU could save on a set of new chromed rims, compared with running polished alloys? Check out our Cost Calculator to find out!
Time
The wheels are the pulse of your vehicle. Time is money, and you can't afford to be off the road for too long. Whether you're chroming old wheels or getting a set of new ones, you need to make sure you're minimising your downtime.
So how do Old vs New chrome wheels stack up against the clock?
New Chrome Wheels:
If you get your new chrome wheels from Superchrome they can be with you in 1 – 7 days, depending on where you're located. That means no downtime for your truck.
Chroming Old Wheels:
It can take up to four days just to get your old wheels to us. Adding the time it takes to clean, polish, chrome and send them back, you could be without wheels and off the road for well over a week – a real business killer.
Quality
Chrome alloy wheels are becoming the preferred wheel for many truck, trailer and bus drivers because they're tough and they keep your rig looking good.
But, there's more to a quality chrome rim than just how shiny it is.
Unfinished polished alloy wheels are fairly soft, are easily scratched and marked by stones. This wears away at the wheels and can damage them or mark them beyond polishing. As the chrome finish is only as good as the polish finish before it, chroming might not be able to hide the damage.
As the saying goes, you can put lipstick on a pig, but it's still a pig.
If your old wheels are worn, and not what they used to be, its appearance won't reflect the price you paid for the chroming. So, you may be wondering, how to chrome alloy wheels?
A clear winner
A set of good-quality chrome wheels can improve the look of your vehicle, reduce the time it takes to polish them, and can open the door to new business opportunities. But you don't need the hassle of time off the road just to get them. Whether it be – how to chrome steel wheels or how to chrome bus wheels, we've got you covered.
If you want to have your cake and eat it too, purchasing new chrome wheels is the way to go.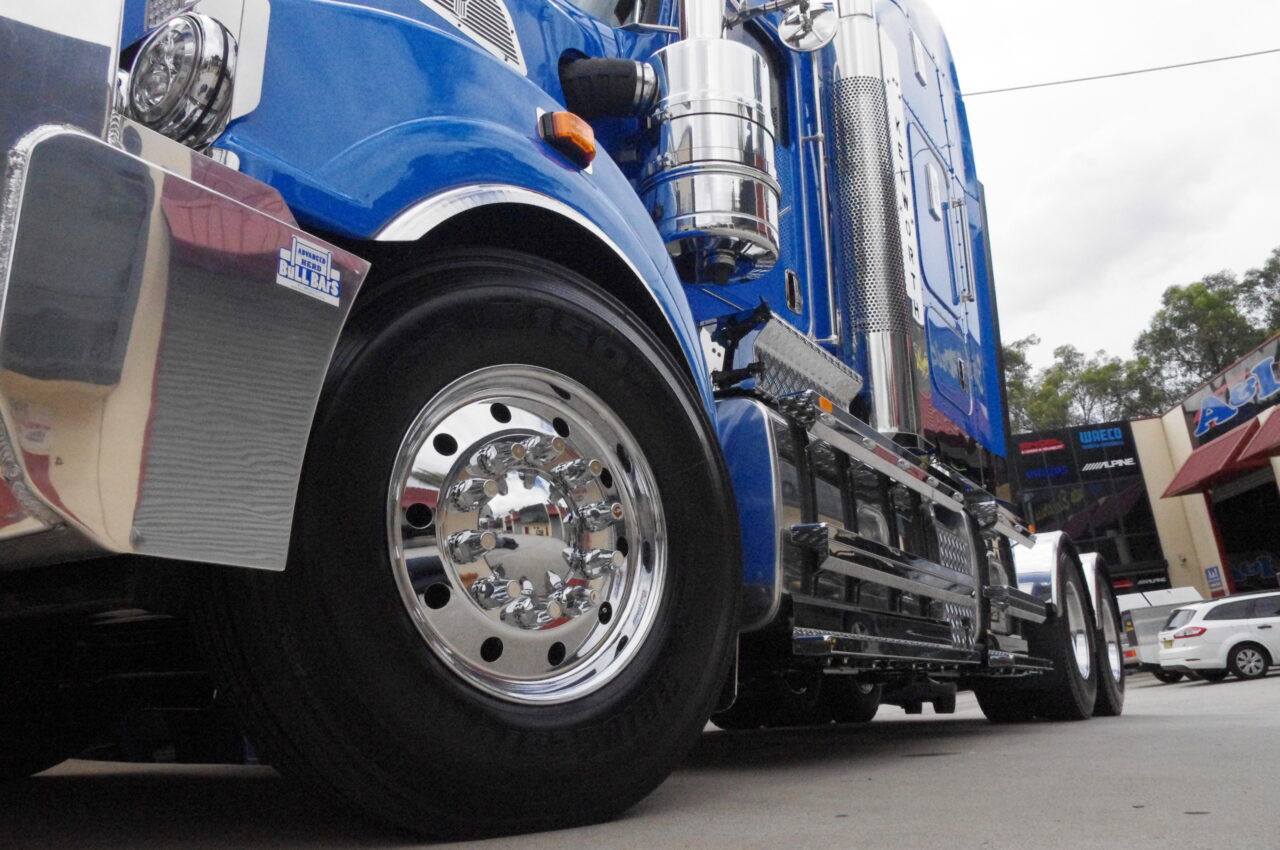 Time to get chroming
Superchrome are the leading chrome wheel suppliers in Australia. They can send new wheels directly to a dealership, business or residence so you will have your new chrome wheels in no time – and won't suffer the consequences of time off the road.
If you're getting a new truck, have a chat to your dealership and get your new vehicle fitted with a new set of chrome rims ready to drive away. We have an exchange program with dealerships so you only pay for the chrome on your new wheels.
If you need chrome rims fitted to your existing vehicle, all you need to do is place an order, make the payment, and they'll be at your door. No time off the road, no lost revenue and a fancy new set of wheels.
Superchrome alloy wheels come with a 7-year chrome warranty and 5-year wheel warranty, so you can stay on the road for longer.
To find out how to chrome wheels, get in touch with Superchrome. You can talk to us directly on +61 (0)2 9060 1610 or fill in your details here and we'll be in touch with you soon.
https://www.superchrome.com.au/wp-content/uploads/2018/05/2013-02-15-15.08.26.jpg
850
1280
MathMarketing
https://superchrome.com.au/wp-content/uploads/2016/04/Superchrome-Logo_RGB_SML-300x63.png
MathMarketing
2018-10-15 04:10:56
2021-12-07 23:34:26
Should you be chroming your old wheels?